This week I wanted to do something a little different for my
5 for Friday. I wanted to upload 5 of my
favorite things that are either going on this weekend, or activities that I
like to do for 4th of July. I'm
also cohosting Friday favorites with Christie from
The Closet by Christie
. All details are listed below!
Advertising Sale
In honor of America's birthday, I'm throwing an advertising
sale party, everything will be 40% off.
You will have until July 11th 2015 (a full week) to purchase
one of these. Listed below are all of
the new prices:
100×100 $3 for one month (original price $5)
200×200 $6 for one month (original price $10)
100×100 and a Guest Post $9 for one month sponsorship
(original price $15)
200×200 and a Guest Post $12 for one month sponsorship
(original price $20)
Guest Post (if brand is coming up with content) $9 (original
price $15)
Guest Post (if I am coming up with content $12 (original
price $20)
Decorating
This is the first time I'm decorating someone's house for 4th
of July. I mean I'm not really
decorating the house per say, but I am decorating the outside. Boyfriend's mom is allowing me to take over
when it comes to the decorations so I'm kind of excited because it'll be my
first time.
BBQ
One thing I love about the summer and celebrating 'Merica is
not only what the celebration stands for but the food! This is when my diet goes out the window
which is pretty terrible but awesome at the same time. The best part is boyfriend's Italian. So, this means I get a lot of awesome Italian
food on top of BBQ too. Pretty much I'm
going to be cheating on my diet really bad this weekend.
Upstate NY
I get to go on a weekend getaway. I love going to upstate NY because I get to
have fun and relax. There's a lake, a
little adorable town that has REALLY good strawberry rhubarb pie, and there's a
lot of land to go quading/four wheeling on.
And, I get to sleep. Needless to
say, I can't wait to be a lazy bum and have fun.
Fireworks
One thing I love about the 4th of July is the
fireworks. Unfortunately I can't watch
the fireworks in upstate with boyfriend because he's the one setting them off,
but at least they will be pretty to look at!
Now, don't forget to read the below on details for linking
up. I'm cohosting today on
Christie's
blog!


Now it's your turn! Join our linkup!
Give a warm welcome to our co-host,
Friday Favorites is all about sharing and promoting your favorite things! Whether it's an outfit post, a round-up of new obsessions, or a new DIY project- I want to hear about it. Every Friday I'll post my current favorites and you can link-up to share yours!
Socialize with me! Find me on any or all of the following:

Socialize with others! Check out some of the fabulous bloggers linking up with us and let them know you found them here. Most importantly, be sure to follow our etiquette and comment on the blogger that linked up before you.
Let others know about our linkup! Spread the word so we can
all make even more friends! Grab a button or mention us in your post.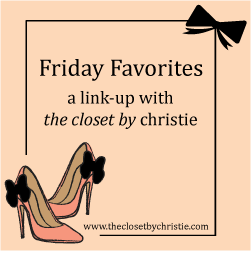 ​
Linking up with: