I've been traveling to Europe for quite some time.  Ever since I was almost 2 years old to be exact.  I mostly travel to Poland, but have made a few trips outside of the Poland.  I always pack way too much stuff, but I know what essentials I should be bringing.  Last year I brought so many shoes and clothes, it was absolutely ridiculous and I only wore half of it haha!  I knew better, but I did it anyway.  Make sure not to stuff your bag completely because you will most likely want to buy souvenirs while you're traveling and I'm sure that no one wants to pay extra for overweight luggage.
Adapter
European outlets are completely different.  If you're going to want to charge any of your items you're going to need an adapter.
Backup Phone Battery
You should always have this because you never know when you will be able to charge your phone.  This particular one shown above is actually good for anything that has a USB.
Camera
I will be bringing my Sony A6000 and my phone, but just be careful abroad because once you pull out a fancy camera you're very noticeable.  However, a lot of phones nowadays also take beautiful pictures.  All of my pictures from last year were actually taken with my phone (Google Pixel).
Tablet/iPad/Headphones/Nintendo Switch
Last year my fiancé and I brought his tablet and we were watching cartoons and movies off of it while we shared headphones.  He also brought his Nintendo Switch which was great because we were playing games while we were on the plane.  Not every movie on the plane is something you want to watch, and when you have a longer flight, you need multiple things to do.
Books
I will bring my newest books with me.  I've been obsessed with my crime related/psychology books because I find them so interesting.  This can also help pass by the time just like the last bullet point.
Minimal Makeup/Travel Size
Since there is a restriction on the fluid oz of items allowed in your carry on I bring them minimum amount of makeup.  This year I'll be bringing just CC Cream, Mascara, and my eyebrow pencil.
Clothing/Shoes
I usually bring way too much with me and end up with overweight luggage to pay for.  What I plan on bringing (and what I should be bringing lol) is the following:
One pair of comfortable/fashionable sneakers that will match with most of my clothes
One pair of flats
Two pairs of long pants.
Two pairs of comfy pants (one for plane, and one for lounging)
PJ's
Versatile Tops
One Jacket
One Sweatshirt
Depending on the climate I'd also maybe add a dress and shorts.
Of course you will also need to bring essentials like bras, underwear, bathing suit (climate permitted), and socks.  We will see if I actually stick to that plan for this upcoming trip haha.  Most likely not.
Easy Access Purse
I usually wear a crossbody bag when traveling because it's easier for me to get access to my passport and boarding passes.  I also like to keep these important documents closer to my body, so it's easy for me to use a crossbody and keep it in front of my body.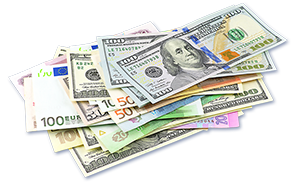 photo via
Currency Exchange Tips
I know a lot of people who exchange their money here in the US.  I'm not sure how all of Europe is, but I know for Poland, I don't exchange until I get there.  The reasoning is because the exchange rates fluctuate daily.  Also, side note, Poland still uses their own currency in addition to Euro's and the exchange rate for their currency is way better for Americans traveling to Poland.  I never exchange all of my money at once.  I exchange enough to get me by until my next trip to exchange money.  This is not only because the rates fluctuate, but because if I have to exchange it back into USD, then I actually lose money.
xoxo Monica
Follow along on Instagram, Facebook, Pinterest, and Twitter
Style Elixir // The Fashion Canvas // Walking in Memphis in High Heels // I do deClaire //The Pleated Poppy // Pumps and Pushups // Elegantly Dressed & Stylish // Elegance and Mommyhood // Posh Classy Mom // Lady in Violet // Glass of Glam// Shelbee on the Edge // Foxy Domestic Side // Style Assisted // This Main Life // Cappuccino and Fashion  // Threads for Thomas